A Parade of Posts for St Patrick 2
Today for your delight:
A Song by Sinead O'Connor
A Poem by Geraldine Plunkett Dillon
A Painting by William Orpen
The song today is featured in Neil Jordan's wonderful Film from 1997, 'The Butcher Boy' adapted from Patrick McCabe's astonishing novel.
In my view Sinead O'Connor has shamanistic gifts as a singer and performer (with all the blessings and trials imposed by such gifts).
A performer like Sinead comes along about as often as apples grow on an ivy tree.
If you want to imagine what it might be to die for Love and have a strong heart surrender to Sinead's incandescent performance here.
In Dublin Town where I did dwell ….
The Butcher Boy
In Dublin town where I did dwell
A butcher boy I loved so well
He courted me, my life away
And now with me he will not stay
I wish I wish but I wish in vain
I wish I was a maid again
But a maid again I ne'er can be
Till apples grow on an ivy tree
She went upstairs to go to bed
And calling to her mother said
Bring me a chair till I sit down
And a pen and ink till I write down
I wish I wish but I wish in vain
I wish I was a maid again
But a maid again I ne'er can be
Till apples grow on an ivy tree
He went upstairs and the door he broke
And found her hanging from her rope
He took his knife
And cut her down and in her pocket
These words he found
"Oh, make my grave large, white, and deep
Put a marble stone at my head and feet
And in the middle a turtle dove
So the world may know I died of love
Geraldine Plunkett Dillon (1891 – 1986) had a fascinating life and after many decades of neglect at last her contribution to Irish culture and letters is being recognised.
'Magnificat' her only collection of Poems was published by Candle Press of Rathgar in 1917.
It is a work of considerable luminous power.
She also wrote a fascinating memoir, 'All In The Blood' which was edited by her grand niece Honor O' Brolchain.
Geraldine Plunkett Dillon : June
I fill my heart with stores of memories,
Lest I should ever leave these loved shores;
Of lime trees humming with slow drones of bees,
And honey dripping sweet from sycamores.
Of how a fir tree set upon a hill,
Lifts up its seven branches to the stars;
Of the grey summer heats when all is still,
And even grasshoppers cease their little wars.
Of how a chestnut drops its great green sleeve,
Down to the grass that nestles in the sod;
Of how a blackbird in a bush at eve,
Sings to me suddenly the praise of God.
William Orpen (1878 – 1931) was a highly gifted and highly successful Portrait Painter.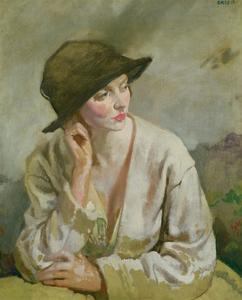 Recommended Websites :
Poethead ( https://poethead.wordpress.com) by Christine Murray is a revelatory Blog about Irish Women Poets.
Elliptical Movements (https://ellipticalmovements.wordpress.com) by Billy Mills is also an invaluable poetic resource for those interested in Irish Poetry.
Do visit these sites and tell them The Immortal Jukebox sent you over!
N.B. Next Post will be on March 15th. Don't miss it!