Where am I headed?
Well, walking the hills of old Duluth can get might cold.
So, time to head down to the source.
Down Highway 61.
Following the mighty Mississippi.
All the way down.
Thirteen Hundred miles and more.
All the way down.
Down to the Crescent City.
New Orleans.
New Orleans, where the food and the climate and the music have a flavour that you just can't get anywhere else.
Nowhere else has that special mix of ethnicities and rhythms that make for a perfect tasting gumbo.
So, back to the Source.
The City of Louis Armstrong and Antoine Fats Domino.
The City of Professor Longhair and Irma Thomas.
The City of Allen Toussaint.
Embed from Getty Images
and Ernest Kador Jr – eternally to be remembered as Ernie K-Doe.
Embed from Getty Images
In April 1961 Allen Toussaint went into the J&M Studios in New Orleans with Ernie and a hand picked crew of musicians and emerged with a multi million seller which became the first Pop Number One from the Crescent City (a feat denied to Fats Domino and Little Richard).
A record that kept Del Shannon's 'Runaway', Ricky Nelson's 'Travelin' Man' and Gene McDaniels' 'One Hundred Pounds of Clay' off the top of Billboard.
And that record was?
Don't tell me you don't know, 'Mother-in-Law'.
As Ernie said (and I ain't about to argue) :
"There aren't but three songs that will last for eternity,' "One is 'Amazing Grace.' Another is 'The Star-Spangled Banner.' And the third is 'Mother-in-Law,' because as long as there are people on this earth, there will always be mother-in-laws."
Once you've listened to it fifty times or so (in the first week you come across it!) you wont be arguing with Ernie either.
I trust you've got your dancing shoes on 'cause you're sure gonna need 'em!
Burn, K-Doe, Burn!
You just good, Ernie, that's all!.
Now, ain't that good for what ails you?
If skies are grey, the mailman hasn't called for a month and your doctor won't even tell you what it is you got I prescribe three spins of, 'Mother-in-Law' and I guarantee you're going to feel a whole lot better.
Allen Toussaint brought all his skills as a songwriter, piano player, band leader, producer and arranger to Mother-in-Law.
The tempo is just right – a relaxed shuffle that demands you sway along to it.
The pitch perfect bass answering vocal comes courtesy of Benny Spellman.
Later on Ernie returned the favour by singing back up on Benny's 'Lipstick Traces (on a Cigarette) another classic from the pen of Allen Toussaint.
The riverboat setting out sax is provided by Robert Parker (previously featured on The Jukebox with, 'Barefootin').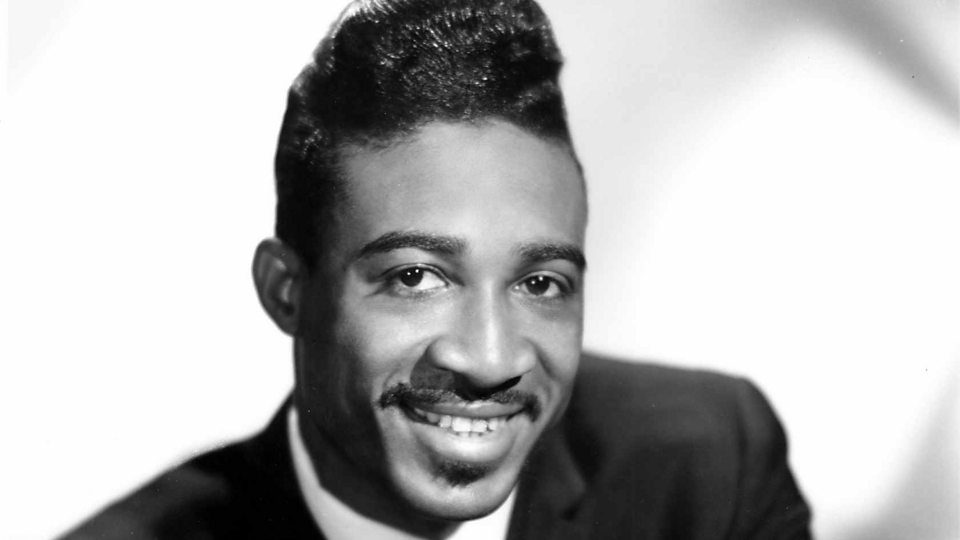 Stirring al the ingredients 'til everything was just so and providing the addictive piano throughout was Allen Toussaint himself.
And Ernie?
Well Ernie provided charm by the bucket load and sang lead with a smile so broad you can hear it in every groove.
Every groove.
And, that Ladies and Gentlemen, is how you confect an all time classic!
At this point I must issue a Formal Disclaimer.
My own Mother-in-Law, Enid (RIP), whom I miss greatly could not have been more warm and welcoming to me when I appeared as a prospective Son-in-Law.
Far from being sent from 'Down Below' she was clearly sent here from Above.
Ernie gloried in the success of 'Mother-in-Law' but though he made many fine records subsequently he was never to have another mega hit.
What he did become through the force of his personality was a bona fide New Orleans legend.
And, far away across The Atlantic, deep in the Surrey Rhythm & Blues Delta, Eric Clapton with The Yardbirds chose to record another Ernie K-Doe and Allen Toussaint song for their debut single.
Later on, the great Warren Zevon (due to feature on The Jukebox soon) brought his own lascivious lupine genius to the song.
Still and all it's Ernie's version that gets me on the dance floor – you just cant beat that New Orleans strut on a 'Certain Girl'.
Tempo, Tempo, Tempo!
Ernie's national and International career was cast into the doldrums by the British Invasion and the rise of Motown.
Still, Allen Toussaint remained faithful to an old friend and in 1970 brought Ernie into the Studio with New Orleans finest.The Meters, and crafted a superb album which featured a guaranteed smash hit in any sane world, 'Here Come The Girls'.
Except, as we all know all too well, we very often live in an insane world – so Here Come The Girls came out and promptly vanished into the ether.
Just listen to the joyous funk of this track and wonder what you have to do to have a Hit!
Times were hard for Ernie from the mid 70s to the end of the 80s.
He grew far too fond of The Bottle and seemed unable to recover that winning charm.
It was the love of a good woman, Antoinette Fox, that saved him.
She convinced him to bid the booze goodbye and gave him the energy to relaunch his career as a performer and crucially for his local profile as a Radio DJ for WWOZ and WTUL.
Ernie's outsize personality found a ready audience and he became a much loved figure once again in his Hometown.
He loved to dress up to and beyond the nines and as the host in his own, 'Mother-in-Law' Bar and Lounge he was entirely capable of singing 'Mother-in-Law'  ten times in a row and having the audience roar along with every word!
Ernie died in July 2001 as a revered elder statesman of the Crescent City music scene and he was later, quite properly, inducted into the Louisiana Music Hall of Fame.
Oh and as The Jukebox has told you before, and will again :
'A true message always gets through. Sometimes it just takes a while'.
For in 2007 some bright spark in the British advertising world had the brilliant idea that the perfect song to sell Make Up products for Boots (a chain of Pharmacies long a staple of the British High Street) was none other than Ernie K-Doe's, 'Here Come The Girls'!
It featured in a series of Ads that everybody from 8 to 80 loved and sang along to with gusto. Soon, 'Here Comes The Girl' was a genuine hit and the shade of Ernie must have laughed and said, 'I knew, I always knew, it was a Hit!'
Burn K-Doe burn!
You just good Ernie, that's all.
Too Good.
I'm going to wrap it up today with an Easter Extravaganza for y'all.
Here's Ernie with Allen reliving those golden days and thrilling us all.
Burn K-Doe, Burn!
Oh, and I must admit it's been a long, long, time since I've spontaneously launched into a rendition of, 'Amazing Grace' or 'The Star Spangled Banner'.
But, quite often, when I'm walking in the South Downs Hills, bubbling out of my subconscious comes :
'Mother-in-Law (Mother-in-Law) ….. and the miles fly by.
Notes :
Ernie was the ninth of eleven children.
His father was a Baptist Preacher so Ernie, as so many, began his singing career in the Gospel tradition – his early hero being the stupendous Archie Brownlee from the Five Blind Boys of Mississippi.
After a few years in Chicago as a teenager he returned to New Orleans and was talent spotted by Bumps Blackwell.
However, it was only when he signed to Minit Records and came under the tutelage of Allen Toussaint that his career blossomed.
Further Tracks by Ernie that I love include :
'Hello My Lover', 'I Cried My Last Tear', 'Te-Ta-Te-Ta-Ta' and 'Popeye Joe'.
Ben Sandmel has written a very enjoyable appreciation of Ernie in, 'Ernie K-Doe : The R&B Emperor Of New Orleans'.